Archives by date
You are browsing the site archives by date.
December 18, 2016
Zachary Stansfield, Jieqing Xu, Ruphen Shaw, Andrew Pursell Stansfield Z, Xu J, Shaw R, Pursell A. An Overview of Complementary and Alternative Medicines. UBCMJ. 2015: 7.1 (7-10). Introduction Complementary and alternative medicines (CAMs) represent a diverse set of health practices that typically lie outside mainstream medicine. While these practices are widely used by Canadians, [1] physicians may […]
December 18, 2016
Noren Khamis, Amanda Ribeiro Noren K, Ribeiro A. Incorporating Complementary and Alternative Medicine into Canadian Undergraduate Medical Education. UBCMJ. 2015: 7.1 (4-6). With the increasing interest among Canadians in complementary and alternative medicine (CAM), it has become paramount for Canadian physicians to be educated about the various modalities of CAM and their interplay with conventional […]

November 28, 2016
The UBC Medical Journal is now accepting submissions for the Fall 2017 issue. The theme of the issue is Precision Medicine – from fundamentals to practice, pharmacogenomics to the microbiome and companion diagnostics, this UBCMJ issue aims to explore the challenges and opportunities of this exciting field. We also aim to identify areas of health […]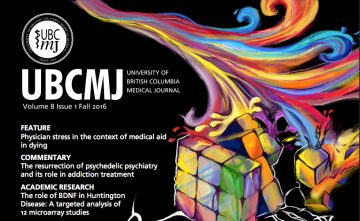 August 28, 2016
We have just launched our newest issue, Volume 8, Issue 1, themed on Mental Health. The full issue is available online here.

August 28, 2016
The UBC Medical Journal is now accepting high-quality submissions for the Spring 2017 issue, which concerns critical advances in technology affecting healthcare. From the ability to detect rare germ-line variants which predispose multiple sclerosis to the generation of highly efficacious cell-based treatments for cancer, high-throughput sequencing techniques and genetic engineering have afforded considerable improvements to […]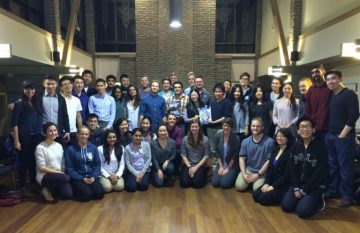 August 28, 2016
The UBC Medical Journal is now recruiting for general staff positions and staff writers. Detailed descriptions for all positions (including staff writers) are available here. The deadline for applications is Saturday September 17th at 11:59pm. Interviews will be held on September 20th. We are hosting a UBCMJ information session, with a presentation on the available staff positions, […]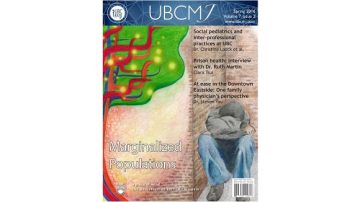 April 7, 2016
Marginalized Populations UBCMJ Volume 7, Issue 2 [14.6 MB] EDITORIAL Marginalization in health care Ribeiro, A., Khamis, N. UBCMJ. 2016: 7.2 (4) FEATURE Prison health: Interview with Dr. Ruth Martin Tsui, C. UBCMJ. 2016: 7.2 (5-6) Linking in and linking across using a RICHER Model: Social pediatrics and inter professional practices at UBC Loock, C., Suleman, S., Lynam, J., Scott, […]
February 17, 2016
The theme of the upcoming Fall 2016 issue of the UBCMJ pertains to Mental Health. Psychological well-being is an integral yet often overlooked aspect of health care. The Centre for Addiction and Mental Health reports that 1 in 5 Canadians experience mental health or addiction issues in any given year, and mental health is one […]